Spanish Cross Horse Sales
This 2021 purebred Andalusian is a buckskin Pearl gelding with brilliant green eyes. His personality is sweeter and more giving than most 2 year olds. He round pens and lunges and is being prepped to saddle in the spring. He bathes fairly regularly because of his beautiful colour and has the longest most gorgeous mane and tail. He is a Barbie dream horse. He leads and ties, blankets, sprays, crosses bridges, loads and is great for the farrier and vet. He will finish around 15.3hh. He will make an amazing Dressage or WE prospect or even for the show ring. He is one of a kind in every way.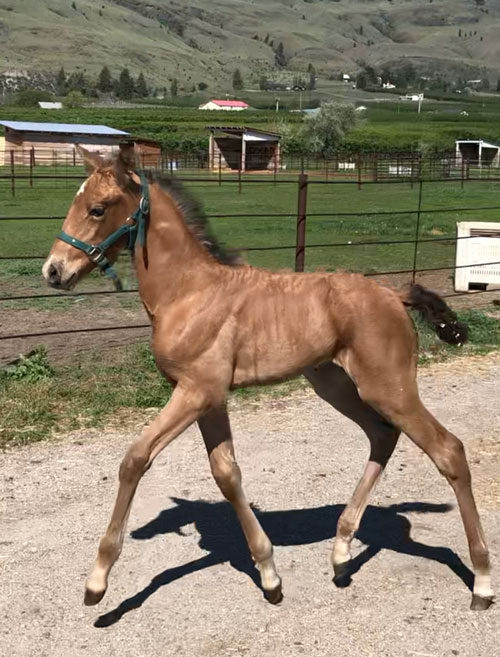 This 2023 Purebred Andalusian colt has a very unique colour and we are still waiting for the results of his DNA colour testing to comeback. Unico is a unicorn!! He's very well put together and has beautiful movement. He is the whole package. We may leave him intact depending on his DNA test results because he checks all the other boxes that could make him an amazing stallion. He is sweet, smart and learns fast. He's great with the farrier and putting stuff on and off him. As winter approaches we will be working on blanketing, long walks getting used to being lead alone with unusual things like bridges cones etc and trailer loading. Unico should finish growing around 15.3hh. He will make a beautiful dressage, Working Equitation and show prospect.
Is a gorgeous 2023 Palomino Iberian Warmblood filly. This tall leggy beauty should finish growing over 16hh like all her full siblings. She will be the last of her line because her dam is due for retirement as she's now 20 years old. With triple crown winning bloodlines mixed with one of the most beautiful sires Ciro BR, whose moves are beyond belief, his coat luminescence and perfect conformation with most of their attributes passed on to their prodigy. As her siblings are proving their worth as jumpers, endurance and dressage prospects she will also be magnificent. Whatever Mandolina will be doing she will stand out not only with her stunning looks but her sweet fun demeanour and athletic abilities.