Our Board Facility
Our piece of paradise
We are a family owned equestrian centre located in the heart of wine country surrounded by vineyards and orchards at the bottom of our beautiful valley in the South Okanagan between Oliver and Osoyoos. We look around at desert foothills next to a peaceful oxbow of the Okanagan river.
Our 12 acre property has been thoughtfully developed for our horses and the horses of our boarders. We have a magnificent 120x80ft well built wooden indoor arena which has been fully lit up for 24/7 riding. We also have a 120x220ft outdoor arena and 60ft round pen. Both arenas have great footing for most disciplines and all obstacles used for Working Equitation, some jumps, cavalettis and poles for jumpers and barrels, cones, bridges and gates etc.
We also are very proud of our trail around our property and our track, as well as off property access to miles of channel and winery trails. We are very lucky to be central enough only minutes away from trailering to multiple mountain, desert and lakes trails.
Our board pens average 80x40ft giving your horse a lot of room to move around with large 3 sided safe cozy shelters with lots of shavings. We have added a great deal of fill to keep your horse from wallowing in mud during wet seasons and keeping ice at bay during winter. All pens have warm automatic waterers that are kept clean and maintained by us. We clean pens daily and take care to keep all our property clean and our metal fencing well maintained.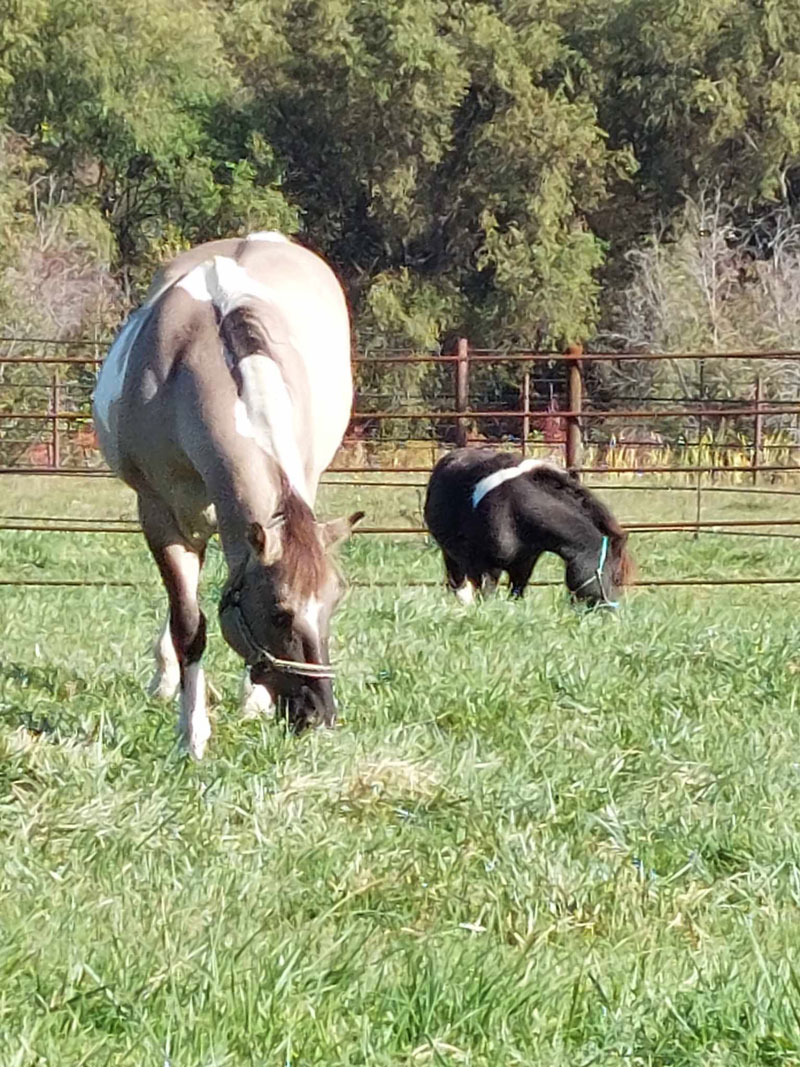 We have a large grass turnout and do offer daily or every second day turnout by us for an extra monthly fee. We do offer other services such as feeding hard feed, giving medication etc also for an extra fee.
We live on property as does our worker and tenants so your horse is never left alone and we have a full security system monitoring the property.
We feed twice a day using slow feed hay nets averaging 10lbs quality grass hay per horse per feeding. We feed depending on each individual horse for example some need some alfalfa where others can't handle any. Some horses need less hay as some need more. We try and keep your horse at a good healthy weight and work with you personally in doing so. We also supply salt blocks with selenium added.
We keep our prices reasonable as of 2023 starting at $500 plus GST per horse. This also includes tack room space and trailer parking.
Throughout the year we hold clinics and schooling shows and we try to have multiple disciplines to choose from such as driving, dressage, Working Equitation, ranch work, horsemanship and more.
Our boarders practice many different disciplines and we all come from many different backgrounds but what we all enjoy is our time with our horses.
We all love our time with our horses as well as our time with our boarders here at SCR. We work hard to keep the drama at bay so everyone can enjoy their time here. We keep an open door policy to speak your mind and we mediate when need be, win win is always what we strive for so everyone feels welcome and heard. We also keep up a group chat to keep everyone in the loop, get to know each other and share rides, jokes or concerns.
For anymore information please contact:
Vikki Souto
(250)498-7446