SiCiro - 2017 Full Andalusian Buckskin Pearl Colt (Gelding)
---
This incredibly rare green eyed boy has nice movement and good confirmation. He has his sire's, Ciro BR, work ethic and his dam's, wonderful playful personality. His coat is luminescent like his father's with some lovely Buckskin attributes. He is colour tested and registered with IALHA. He has been handled from the start and is already in ground training. Placed in yearling class "2018 Andalusian World Cup
Sold
Congratulations Diane Williams for adding this gorgeous prodigy to your family
Serafina - 2017 Iberian Warmblood Buckskin Filly
---
Serafina is a mover. Her dam is a Thoroughbred from Triple Crown winners Seattle Slews granddaughter Yoonoyourcharming and Sired by Ciro Br. She is registered IALHA and DNA tested. Her stretch is something to be admired for Dressage and she has already shown us her jumping ability. I can see her as a professional Eventer. This filly has such a beautiful look and demeanour with her doe eyes and sweet presence. She's a forward mover and thinker and is very giving. She should make it to at least 16hh. She will dazzle in the show ring.
Sold. Congratulations to the Mayberry family of Spokanne, Washingon on your beautiful new baby.
Curioso - 2017 Iberian Warmblood Colt (now gelding)
---
This is one of the sweetest colts. He is our most photographed because of his amazing confirmation and he moves like his sire Ciro BR. His dam Isanna gives him his kind face and loving demeanour. His long legs gives him his Barn name Legz and his personality gave him his registered name "Curioso". He's registered with IALHA and DNA tested. This boy will a trusted Show horse in many disciplines.

Sold.
Ruffian - 2018 Iberian Warmblood Buckskin Colt
---
Another big tall foal from our granddaughter of Seattle Slew. Solid bone and big movement like his full sister this guy will make a fantastic Dressage prospect as well as an Eventer, jumper and or Working Equitation. He has lots of personality and the sweetest face.
Sold. Congratulations Tanya Henshaw-Rochel for your new family member Ruffian
Oasis - 2018 Azteca Filly
---
This blue eyed beauty is flawless. Her conformation is perfection with brains and personality to match. Sired by Ciro BR with DWR Flash in the San, our APHA mare, gives her colour like nothing we have seen. We believe she is a Dunskin but until her DNA confirms we aren't sure. She has tiger-bars running up her legs now so we also ordered brindle testing as well as a full colour panel. She also has the moves she dances like her dad with spins and stops like her mom. We are asking $5000 but her price will continue to rise with training and confirmation on her rare colour traits. This filly will go places. We are looking to place her in a home where she will eventually shine in a show ring.
Sold. Congratulations to Josie Croasmun for adding Oasis to your family.
This stunning 2020 palomino Iberian Warmblood colt will make an amazing dressage prospect. With Ciro BR as his sire and Seattle Slews granddaughter as his dam there's no telling how far the heights this guy will reach.
He has a very easy going personality and is very smart, brave and athletic. With his long legs and beautiful conformation, bright white mane and red blonde coat he will be the envy of everyone in the show ring. Now gelded.
Sold
Congratulations Nicol and Erika Tschol for your new addition to your family
He's a gorgeous solid 2020 Azteca colt. He's super sweet, kind, brave, curious and smart. He has such long legs and is very well put together. His beautiful big eyes will melt your heart one is blue the other has a touch of blue. Torino VS is Registered IALHA. His parents make such beautiful foals, dam is Flash in the San and sire is Ciro BR. He's perfect for Working Equitation. He's a winner if you want to show him. We look forward to seeing what this boy's future will be.
Sold. Congratulations to Dana Leedahl you have the best boy for your future adventures. Welcome to the family.
Girasol is a 2020 IALHA registered purebred Andalusian DNA tested buckskin filly. Her sire is Ciro BR and her dam is PRE Gazelle. She is a very sweet, intelligent filly with a beautiful face with delicate features. She is very athletic, forward moving with her father's agility. She's also very brave and kind. She would make an excellent working equitation or dressage prospect. She should reach between 15.1-2hh when she does finish growing.
Sold
Congratulations Gail Sheeks she is a wonderful addition to your family
This 2021 purebred Andalusian is a buckskin Pearl gelding with brilliant green eyes. His personality is sweeter and more giving than most 2 year olds. He round pens and lunges and is being prepped to saddle in the spring. He bathes fairly regularly because of his beautiful colour and has the longest most gorgeous mane and tail. He is a Barbie dream horse. He leads and ties, blankets, sprays, crosses bridges, loads and is great for the farrier and vet. He will finish around 15.3hh. He will make an amazing Dressage or WE prospect or even for the show ring. He is one of a kind in every way.
2022 Dunskin Azteca Filly
This filly has it all. She's elegant and very well put together so she will be perfect for show and she is very affectionate and brave which will make her perfect for Working Equitation. She's a big mover very forward. She should finish around 15.2hh. Like I said she has it all. We will be looking for the perfect home for her we want her to be successful and very much loved of course. She will steal your heart.
2022 Buckskin Azteca Filly
Ciro has given us yet another stunning filly. This super sweet, smart, active and solid girl is going to be the perfect Working Equitation prospect. She will become your heart horse as soon as you meet her. She should finish around 15.2hh. She is a big mover and very forward and she's beautiful.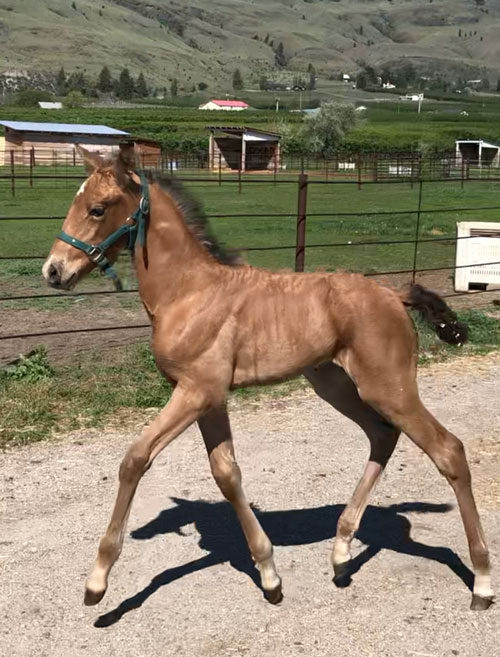 This 2023 Purebred Andalusian colt has a very unique colour and we are still waiting for the results of his DNA colour testing to comeback. Unico is a unicorn!! He's very well put together and has beautiful movement. He is the whole package. We may leave him intact depending on his DNA test results because he checks all the other boxes that could make him an amazing stallion. He is sweet, smart and learns fast. He's great with the farrier and putting stuff on and off him. As winter approaches we will be working on blanketing, long walks getting used to being lead alone with unusual things like bridges cones etc and trailer loading. Unico should finish growing around 15.3hh. He will make a beautiful dressage, Working Equitation and show prospect.
Is a gorgeous 2023 Palomino Iberian Warmblood filly. This tall leggy beauty should finish growing over 16hh like all her full siblings. She will be the last of her line because her dam is due for retirement as she's now 20 years old. With triple crown winning bloodlines mixed with one of the most beautiful sires Ciro BR, whose moves are beyond belief, his coat luminescence and perfect conformation with most of their attributes passed on to their prodigy. As her siblings are proving their worth as jumpers, endurance and dressage prospects she will also be magnificent. Whatever Mandolina will be doing she will stand out not only with her stunning looks but her sweet fun demeanour and athletic abilities.