This very talented, beautiful 2008 mare came originally from Sommer Ranch in California. We pursued purchasing her because she produced such colourful, well put together foals. Yes Grey mares can give colourful foals. She has yet to give a Grey Baby because of her Pearl gene.
Arista is not only a wonderful brood mare but one of the smartest, kindest, most giving horses I've met with a very playful side to her. Which she passes off to her babies. She is versatile under saddle but particularly loves to jump. English or western she is wonderful to ride and will soon be proving herself in the Working Equitation ring.
Velada is the whole package in a PRE. This 2016 Smokey Black Beauty has the perfect conformation and movement in what we expect to see in a 16.2-17hh adult mare. She is so loving and giving I would bring her into the house if I could. She is in halter training for Show and we hope to see if she likes driving next year. Everyone falls in love with her the minute they see her. 2018 Andalusian World Cup ANCCE Best Movement Champion
This gorgeous X race horse is Seattle Slews granddaughter and if she hadn't bowed her tendon there is no telling how far she would have gone. As a brood mare now she give us the most amazing foals with Ciro. These leggy well boned big movers with huge extensions will grow to become over 16hh. Bella produces stunning foals with jumpers shoulders great for Dressage, eventing and beautiful show horse prospects.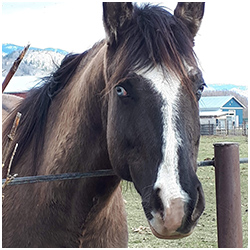 Is a very well bred Grulla APHA Paint with lots of Peppy San bloodlines for cow work or work in general this girl loves it. She loves to show and is trained in reining. This is where she shines and her sliding stops are amazing for such a young horse. With her stunning blue eyes and strong confirmation her and Ciro complement each other beautifully. These babies will be talented in every way.
This beautiful 2015 AQHA registered Grulla mare has great bloodlines. Her descendents on both sides are from the famous Peppy San. She has a season of riding on her and would make a wonderful ranch horse. Because we are focusing on our Iberian breeding we believe she would be better suited as a working horse for someone who would love this sweetheart to work their ranch or show in Western Classes. She is the kindest mare giving and very loving.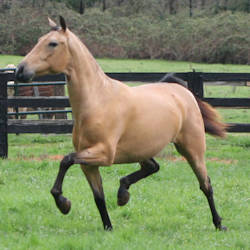 2015 PRE Andalusian colour tested Buckskin with a nd1/nd2 genes. She is registered ANCCE and IALHA. This filly moves like a Gazelle and will be showing in driving at the 2018 Andalusian World Cup. We are very proud of her! Thank you Suzan Sommer for putting Arista IV and Oriundo VG together. Placed in Driving and in hand at "2018 Andalusian World Cup".
Sold
Congratulations Jarrod Ryan Baumann for adding this beautiful mare to your herd